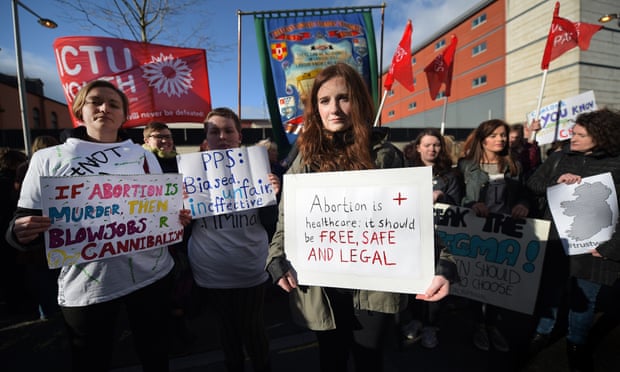 You may have seen an open letter signed by myself and colleagues Diana Johnson, Karin Symth and Sharon Hodgson that was published in the Guardian and sent to Harriet Harman, chair of the Joint Committee on Human Rights, to ask that they take action on the issue of abortion in Northern Ireland.
You can read the letter and the relevant Guardian article below:
http://www.theguardian.com/world/2016/apr/18/northern-ireland-abortion-prosecutions-uk-parliament?CMP=share_btn_tw
I wanted to take the time to provide a bit of background to this issue and outline why I feel this issue needs to be addressed.
As so many of you will be aware, abortion remains almost completely illegal in Northern Ireland and is the only part of the UK which the 1967 Abortion Act does not apply to. Under the law in Northern Ireland, abortion can only legally take place to protect the mother's life, or where it can be proved that her mental health is seriously at risk, and is governed under the 1861 Offences against the Person Act. This means that a woman who is raped, or whose pregnancy is a result of incest, would not be able to legally obtain an abortion. I feel that this sentence alone should be enough to explain why the law must change.
It is in fact one of the most restrictive abortion laws in Europe, despite a ruling last year from the Northern Ireland's Human Rights Commission, who ruled that banning abortion in cases of rape, incest or fatal foetal abnormality was incompatible with the European Human Rights Commission.
Though health and justice are devolved to Northern Ireland, Human Rights are not. This means that there is scope for England, and Westminster MPs to intervene.
Whilst I have always received letters about abortion law in Northern Ireland, recently it has become a subject of much debate, owing to a case earlier this month, when a young woman from Northern Ireland took abortion pills in order to terminate her pregnancy and was prosecuted as a result, facing a three month sentence suspended over 12 months. Whilst campaigners have focused on the possibility of prosecution, we now face a situation where a woman has actually been arrested and prosecuted, and we know that another woman will face charges later this month.
It is important to note that ultimately, women who terminate their pregnancies in Northern Ireland face a maximum of life imprisonment. Life imprisonment for making a decision about their health, and their future.
For some women, the law leaves them with no choice but to travel to England to terminate their pregnancies, which must be funded themselves. Statistics recorded by the Government show that in 2013, 95% of women in England and Wales had their abortions funded by the NHS.
However, for women travelling from Northern Ireland, this is not a free service and they must be able to pay in order to terminate their pregnancies. The British Pregnancy Advisory Service, who have clinics across the UK offering safe and legal abortions, outline the cost of their services for those who do not qualify for a free abortion. Prices range from £500 up to £1725, and of course this does not include the cost of travel or accommodation.
BPAS has from October offered special prices for women from Northern Ireland, recognising the inequality and restrictions that they face, however it remains the case that because of legislation passed in 1861, only those women who can afford it are able to make decisions about their own bodies, and to terminate their pregnancies.
For those women who simply can't afford to travel to England, one option remains and is the choice which landed a 19 year old with a criminal record.  This route involves purchasing abortion pills online.
Many campaigners are arguing that purchasing the abortion pill online is a safe option when sourced from reputable websites.
A good example of this would be "Women on Web" an organisation who provide the abortion pill to women in the third world countries and places where abortion remains illegal. They receive more than 10,000 emails a month from women across the world who cannot access safe abortions. The organisation aims to help any woman who is less than nine weeks pregnant.
This pill is the same pill which is provided in clinics legally and safely - mifepristone and misoprostol – and are on the World Health Organisation's Essential Medicines list. Each woman is given an online consultation with a licensed doctor before she's provided with them.
For those women however that do buy this pill online, they face dealing with a termination alone, and the constant fear of exposure and arrest, which was sadly realised by a woman earlier this month. We also know that another case is due to come before Irish courts later this month.
However, ordering a pill from an online organisation is a much safer option then attempting to terminate the pregnancy with a DIY kit or worse. Organisations have cited cases of women drinking bleach or throwing themselves down flights of stairs, desperate to induce a miscarriage.
This situation is absolutely appalling and cannot continue. Even for those women who do travel to England to access an abortion face a lengthy travel time, often leading to incidents of bleeding on public transport, alone and terrified.
I believe in every woman's right to make an informed decision about her reproductive health. It is time we intervened to insure women in Northern Ireland have this right too.
Do you like this post?